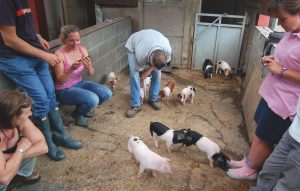 A full programme of courses is set for next year.
So if you've always fancied keeping pigs, but not sure how, then one of our courses is for you.
Packed with information, practical tips, and of course lots of pigs to meet, a one day course will give you all the knowledge you need to turn that dream into reality.
And of course you can always give this as a Christmas or birthday present (or maybe hint that you would like to be bought this !!) – Gift vouchers for any occasion are available.
So make 2018 the year that you have pigs with an Oaklands Pigs Course.
Visit our course page for details and on-line booking