Clare decided that we should do both dog and pig xmas cards this year for our various friends.
So a couple of hours were spent creating a set in the corner of one of our barns. This included a xmas tree, and some presents.
Gerry and Margo (our Kune Kune pigs) were pressed into action – actually the promise of some apples meant that they were more than willing participants!
Suitably fitted with Santa hats and tinsel, they headed for the 'set'.
However pigs always look to the floor for food, so some coaxing to raise their heads was required, and lots and lots of pictures were taken to get this shot.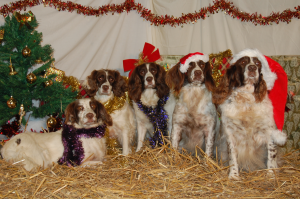 The dogs were much easier, as trained gundogs they are used to sitting where they are told, and just clicking fingers gets them to look up.