Oaklands Pigs - Sharing our Expertise
Clare & Robin welcome you to the Oaklands Pigs website

Oaklands Farm is a working farm on the Kent/East Sussex Border, near Tunbridge Wells.
We started keeping pigs over 25 years ago, mostly raising weaners for the freezer before starting breeding from our own stock.
We are not currently running any pig keeping courses.
In early 2005 we replaced our many assorted pigs with new pedigree saddleback breeding stock, the foundation of our saddleback herd today.
Apart from these, we have examples of some of the other traditional pigs, including Tamworths and Kune Kune. We have also kept Middle Whites, Welsh, Oxford Sandys, Berkshires, Large Whites, Old Spots, Landrace, Large Blacks and Mangalitzas in the past. We have recently reduced the number of animals at the farm and now have around a dozen adult breeding stock.
So between us we have many years of experience of buying, keeping and breeding pigs, and offer friendly advice to those new to pig keeping, or those thinking of moving on to breeding pigs.
Here at the farm we have set up a number of different environments in paddocks, woods, and barns with an assortment of styles of fencing and numerous varieties of arks, so there is always something going on at the farm.
Being a small farm, we can take the time to discuss and help you choose your pigs, and give help and advice on setting up and all aspects of pig keeping.
For disease control purposes, we do not hire any boars from this farm, or accept sows for mating.
We are not able to offer any vet student or work experience placements, as there is very little maintenance required for our outdoor herd.
Recently we were contacted to take part in a long term stress analysis that was being conducted for outdoor, indoor and intensively reared pigs. The normal samples of blood, urine or saliva will give a instant reading of the pigs current stress level, but that does not help for long term analysis.
The answer is through taking hair samples. So the researcher Lisa pictured below set off down our field with her assistant and a small team of helpers that we had assembled. The process involved cutting a small amount of hair from the head, the back and near the tail all to be separately bagged and identified. The samples needed to be taken from 10 sows of the same breed who were kept in the same environment.
So with one of our helpers distributing food to distract the pig and keep the others at bay, another opened and identified the sample bags, while Lisa cut the samples. Another helper kept an eye on which pig we were sampling as they jostled for food and another read the tag and notch numbers so we could provide details of each pig's age, number of litters etc, whilst the last helper sealed the bags and grouped them together in batches.
And surprisingly no-one fell over or got stuck in the mud, and the pigs were all very co-operative. The results are due in April, so watch this space.
Clare decided that we should do both dog and pig xmas cards this year for our various friends.
So a couple of hours were spent creating a set in the corner of one of our barns. This included a xmas tree, and some presents.
Gerry and Margo (our Kune Kune pigs) were pressed into action – actually the promise of some apples meant that they were more than willing participants!
Suitably fitted with Santa hats and tinsel, they headed for the 'set'.
However pigs always look to the floor for food, so some coaxing to raise their heads was required, and lots and lots of pictures were taken to get this shot.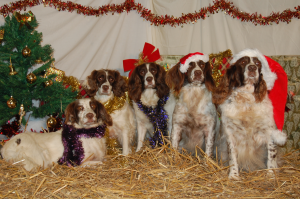 The dogs were much easier, as trained gundogs they are used to sitting where they are told, and just clicking fingers gets them to look up.