Oaklands Pigs - Sharing our Expertise
Clare & Robin welcome you to the Oaklands Pigs website

Oaklands Farm is a working farm on the Kent/East Sussex Border, near Tunbridge Wells.
We started keeping pigs over 25 years ago, mostly raising weaners for the freezer before starting breeding from our own stock.
We are not currently running any pig keeping courses.
In early 2005 we replaced our many assorted pigs with new pedigree saddleback breeding stock, the foundation of our saddleback herd today.
Apart from these, we have examples of some of the other traditional pigs, including Old Spots, Large Blacks, Tamworths, Landrace, and Kune Kune. We have also kept Middle Whites, Welsh, Oxford Sandys, Berkshires, Large Whites and Mangalitzas in the past. We have recently reduced the number of animals at the farm and now have around a dozen adult breeding stock.
So between us we have many years of experience of buying, keeping and breeding pigs, and offer friendly advice to those new to pig keeping, or those thinking of moving on to breeding pigs.
Here at the farm we have set up a number of different environments in paddocks, woods, and barns with an assortment of styles of fencing and numerous varieties of arks, so there is always something going on at the farm.
Being a small farm, we can take the time to discuss and help you choose your pigs, and give help and advice on setting up and all aspects of pig keeping.
For disease control purposes, we do not hire any boars from this farm, or accept sows for mating.
We are not able to offer any vet student or work experience placements, as there is very little maintenance required for our outdoor herd.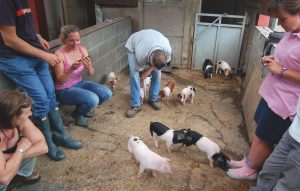 A full programme of courses is set for next year.
So if you've always fancied keeping pigs, but not sure how, then one of our courses is for you.
Packed with information, practical tips, and of course lots of pigs to meet, a one day course will give you all the knowledge you need to turn that dream into reality.
And of course you can always give this as a Christmas or birthday present (or maybe hint that you would like to be bought this !!) – Gift vouchers for any occasion are available.
So make 2018 the year that you have pigs with an Oaklands Pigs Course.
Visit our course page for details and on-line booking
Tara the Tamworth certainly strutted her stuff at the weekend to come 2nd in a class of 11 for the July Gilt group. Tamworths do not normally feature highly in mixed breed classes, so to come second was the highlight of our day.
The other pigs in the team all played their part and we came away with Best Tamworth, Best Old Spot and Best Saddleback. So a nice end to the showing season for 2017.